Hourly News Updates for iOS and Mac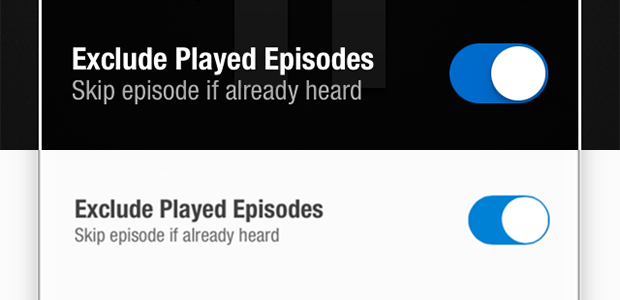 Hourly News has just been updated for both the iOS and Mac versions. The updated versions — 1.6.3 on iOS and 1.2.3 on Mac — are available now on the iTunes and Mac App stores. So what's new?
We added a setting called "Exclude Played Episodes" which, when enabled, skips past a news podcast episode if already heard. This is great for when you have a mixture of weekly or daily updated sources in with your hourly news source.
For example, let's say you listen to Hourly News in both the morning and the night, and you also subscribe to the Marketplace Morning Report. You would hear the Morning Report in the morning when you want to, but you would also hear the same episode a second time in your sources at night because they only update once per day. Enabling "Exclude Played Episodes" will skip past this at night so you don't have to hear the same episode again.
There were some other rare, but serious bug fixes such as one that would prevent the app from being opened if you disabled all of the sources. We fixed another where the custom source addition could continually ask for upgrade. We fixed another where the app would sometimes crash if sources were swiped too quickly. And of course, we are always optimizing the app and making minor bug fixes to ensure top quality.
The Hourly News updates for iOS and Mac are available now. Enjoy!
Hourly News for iOS, version 1.6.3
Hourly News for Mac, version 1.2.3
Was this page helpful for you? Buy me a slice of 🍕 to say thanks!