NYC Bikes 1.2 Adds a Full Station Map and Ride Timer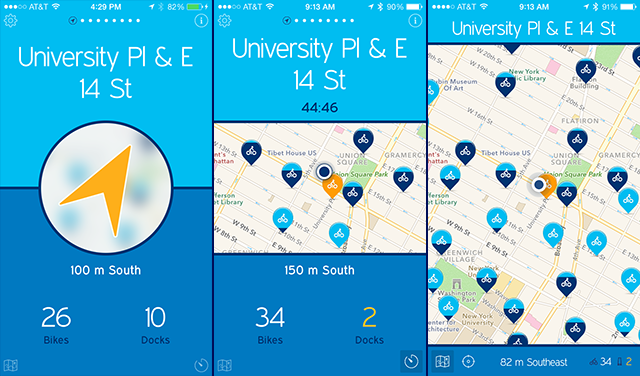 NYC Bikes is a simple and easy-to-use App that helps you locate the closest Citi Bike℠ docking station. With one tap you can find the closest Citi Bike station, how far away it is and in which direction, and how many available bikes and docks it currently has. NYC Bikes has just been updated to version 1.2 so what's new?
A 30 or 45 Minute Ride Timer.
A Citi Bike rental has very strict ride length limitations, with steep late fees
Pass holders have the first 30 minutes of every trip free and Annual Members have the first 45 minutes of every trip free. Longer rides incur overtime fees. If your Citi Bike has not been returned and correctly docked at a station after 24 hours, the bike is considered stolen and a fee of up to $1,000 plus administrative fees will be charged to your credit or debit card.
Set a simple ride-timer in NYC Bikes at the beginning of your trip and the app will remind you with a notification 5 minutes before your rental is due, as well as at the time it needs to be returned.
A Full Station Map
While NYC Bikes was designed to show you the closest stations on-the-fly, many riders prefer to determine their destination station before their trip starts. Tap the map icon in NYC Bikes and a full screen Station map is displayed, showing you station details on all 300 stations.
Available Now
NYC Bikes is a huge time saver over the official Citi Bike App, and makes getting around New York a little bit easier. Available now, for FREE.
Download NYC Bikes today on the iTunes App Store.
Was this page helpful for you? Buy me a slice of 🍕 to say thanks!